As we approach the 3rd Month of Quarantine due to the COVID-19 Virus, many companies are continuing the work from home initiative and allowing their employees to operate remotely for the remainder of the year or at least until the end of the pandemic. Regardless of individual company policies, most will agree that the situation does not likely to be resolved in the near foreseeable future. Thus, companies should be prepared to operate remotely by adapting new standards within the company and strive to get the business back on track. Some key areas of focus for companies to consider regarding their remote teams include:
1. Time Management and Work Scheduling
When working remotely, employees need to have an awareness of time, as they are isolated from their respective teams. This could cause an unwanted effect on the productivity of their workflow and overall performance. As such it is recommended to have a well-structured schedule to perform optimally. This will assist in accomplishing work more effectively and prioritizing tasks.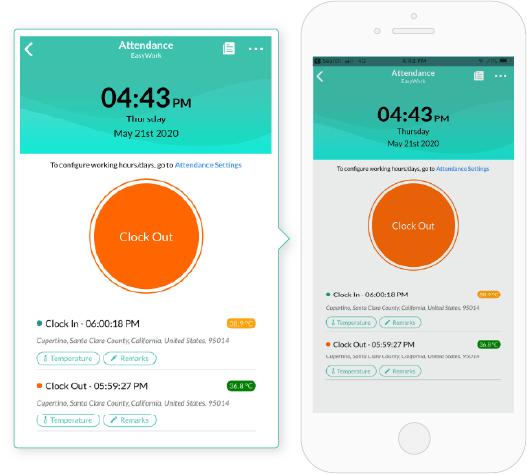 Using EasyWork's Attendance Feature, employees can reduce the time distortion of their new workplaces by using the Clock In & Clock Out function to simulate the start of their workday and start executing their pre-plan work schedules, and also allows them to be aware when work hours are over to unwind for the day.
2. Keep Connected with Colleagues
With teams now physically isolated from their colleagues, it is important to maintain communications between team members and organizational leaders. Most companies have an existing platform for communication usually broken down into smaller groups depending on departments and cross-functional teams. These channels for keeping employees connected should be upheld and used as frequently as possible to ensure work continues smoothly for the foreseeable future.
Although effective these channels have their limitations, primarily when addressing the entire company. Using the Announcement Feature on the EasyWork App allows organizational leaders to communicate company wide regarding any important developments pertaining to the business. Keeping employees up to date to the latest happenings in the company such as new work policies.
Vice versa, top management might also want to hear from their employees regarding decisions that might affect them. Company admins of the EasyWork App can make use of the Poll Feature to get input from specific teams or departments to all employees within the company.
3. Plan Out Work and Keep Track of Progress
Some workflows require team effort to achieve completion; and while having a personal work schedule helps to optimize productivity in isolation, it is not effective when a task involves multiple team members to accomplish. Keeping leaders and colleagues up to date with task progression can be tedious and time consuming but is undeniable necessary with team projects.
EasyWork's Quest Feature can ease this process by allowing team leaders to create tasks that can be assigned to groups or individuals which are updated and tracked by their respective assigned parties. Teams involved in the quest can view each other's contribution to the overall goal and quest creators can set up a reward for individual or team efforts to incentivize goal completion. Overall, this feature allows team to have a shared goal to work towards and allows progress reporting through the convenience of a mobile device.
4. Adopt New Employee Benefits and Rewards
Previous non-monetary incentives afforded to employees within the office, are now longer available due to the simple fact that teams are now working remotely from home. These incentives could range from an office pantry offering light refreshments for employees to team outings and company celebrations which might have an impact on workplace motivation whether big or small.
Having communication tools for the company helps keep employees connected but are usually exclusively used for conveying messages pertaining to work. These incentives open opportunities for employees to connect with one another outside of work and create synergy within the company through their interactions.
While working remotely, employees can no longer enjoy these incentives which could see a decline in company motivation and team synergy. Companies should now look into re-engaging their employees through other means to curb this decline. EasyWork offers a built-in solution through the Reward Feature which revolves around a point system that incentivizes team synergy and rewards collaboration between different teams. Essentially creating a social environment where teams can award each other points which can be redeemed through set prizes by company admins.
These are trying times for everyone, but companies should see this as an opportunity for adapting new practices that allow them to come out stronger in the long run and adopt new technologies that would see them increase in productivity and overall performance. Find out more about how EasyWork can help your business at www.easywork.asia, follow us on Facebook and subscribe to our newsletters to get the latest tips on how to improve your HR. Stay safe and stay productive.