Welcome to Exabytes & EasyWork Wild Wild West Annual Dinner 2020! 
YeeeeeeeeeeHaw……………..!
There were lots of cowboys and cowgirls found at Hard Rock Hotel Penang a week plus ago.
Why?
They were Exabees slash Cowboys Cowgirls! This year, the theme of our Annual Dinner was "Cowboy-Wild Wild West".
Exabytes & EasyWork Wild Wild West Annual Dinner 2020 was held at Hard Rock Hotel Penang on 11th January 2020. It was a great night full of amazing performances with many lucky draw prizes up for grabs.
Before Event
Before the event started, there were mini games and photo booth outside the ballroom which provided some activities for Exabees to interact, socialize and have a good time. There was a bottle shooting game for the early birds. Moreover, everyone will participate in the game in which everyone will get a puzzle when they register. Therefore, they need to go around to engage with different people from different departments to match and win the puzzle game.
At the Event
At 7pm, the event started with funny short drama by emcees, acting as cowboy and cowgirl to cheer up the atmosphere!
Next, it was the inspirational and motivational speech by CEO, Mr. Chan Kee Siak. We thank our special guests for joining us at the momentous event and helped make it a success!
As Chinese New Year was approaching, we had prepared "YeeSang", also known as Prosperity Toss. This Teochew-style raw fish salad is believed to bring good health and wealth for the upcoming year. We hope that everyone is in good health and wealth in 2020!
Coming up next are Awards Giving Ceremony, an exciting Lucky Draw and performances.
Awards Giving Ceremony
Award presentation is a must at all annual dinners, right? Yes, of course! Numerous awards were given out, including Long Service Award, Employee Of The Month (EOTM) Award, Top Sales Award, Top Cust Award, Top Tech Award.
Lucky Draw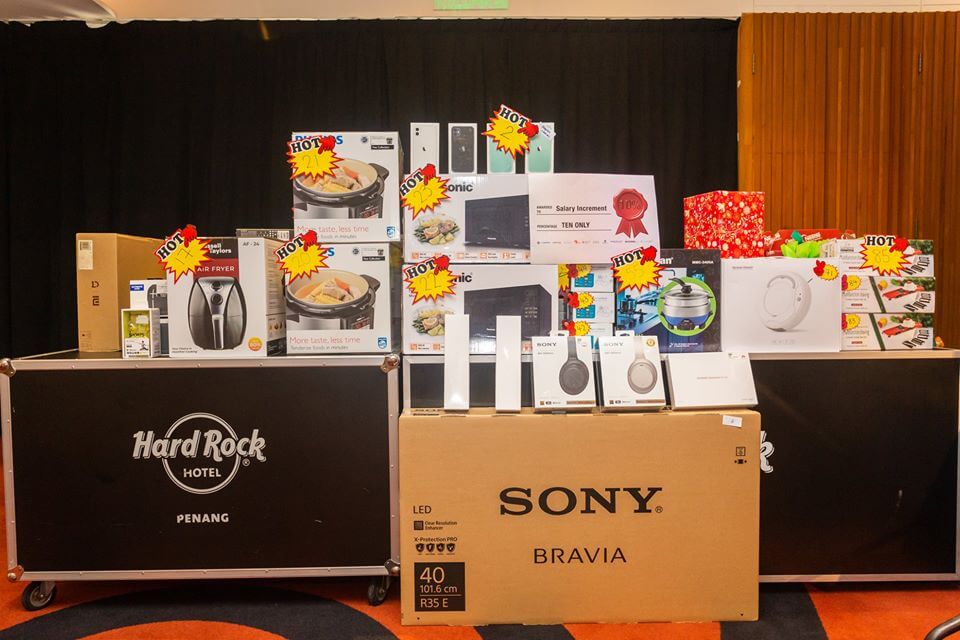 Next came the most exciting part, the lucky draw!! Lots of prizes awaited us. The prizes were very attractive. When the emcee was about to announce the TOP prizes (including iPhone 11, salary increment, and more!), and if your name was called, you would surely jump up from your seat and shout "WoooHooo…..!"
Best Costume Competition
And of course, everyone is well dressed for the Annual Dinner. Company has reserved the Best Costume for both Male and Female.
Next was the winner announcement of the Best Costume for both Male and Female. The Best Costume for Male went to Lekx Ooi! The Best Costume for Female went to Aida, one of our emcees! Congrats! Good job!
Winners brought home an iPhone 11! Winners were determined by votes. Voting was LIVE and the process was completed in the fastest way. It is so exciting!
Performances
Needless to say the performance of the night was extremely interesting and entertaining. There were singing and solo drum performances, magic shows, and short dramas.
Like the best costume award, employees cast their votes to choose their favourite performance. Voting was LIVE as well and two best performances were awarded with an Apple Watch each!
Last but not least, this is our team, EasyWork
I would say that the Annual Dinner of Exabytes Group was great! EasyWork team also participated at Exabytes Group Annual Dinner 2020.
It's a wrap and we would like to thank all who helped make this Annual Dinner a huge success!
Last but not least, many thanks to the OCs for their hard work and everyone who attended this special event!
Thanks again!