Hundreds of thousands of workers at tech companies in the Seattle area including Amazon, Microsoft, and many others are working from home due to the spread of coronavirus. Same for those SME companies located at the infected areas.
Does everyone need a Work from Home tools? I would say YES! In the current Corona Virus's urgent situation, most companies have decided to allow their employees to work from home in order to keep them safe.
Indeed, most of companies are greatly concerned about employee's health and wisely make work from home to become a necessity.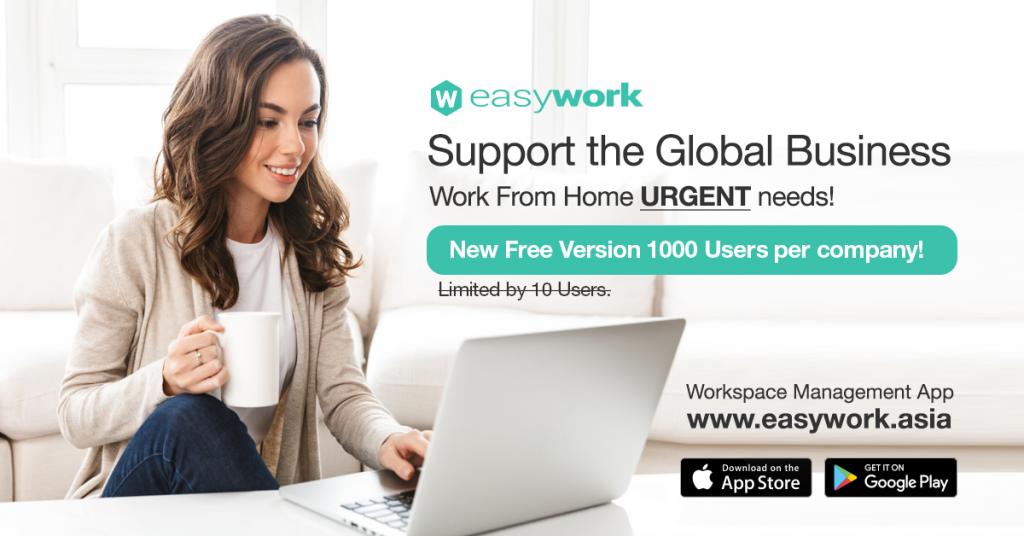 EasyWork the WorkSpace Mobile App has decided to support the businesses around the world to empower their employees to work from home. The core actions we support this world wide issues by giving out EasyWork Free Plan to support up to 1000 Users for Free & Life Time.
The usual plan of EasyWork free plan is limited to 10 Users, and now we have decided to upgrade our free plan from limit 10 Users to limit 1000 Users for each company!
With employees either being quarantined after international travel or encouraged to work remotely due to the Coronavirus (COVID–19), Microsoft, Google, and Cisco are offering free licenses to their meeting, collaboration, and remote work tools. Of Course Including EasyWork!
Work From Home & Attendance Features
EasyWork comes with a complete set of tools for remote Attendance, such as Clock in & Out based on GPS, Work From Home Approval, Travel Declaration, Office Announcement and more.
From head to toes, EasyWork Features are made to support productive remote working and the Global emergency needs of Work From Home.
How does Apply Work From Home works?
Step 1: Fill in your start date, end date & details.
Step 2: Submit to manager/ hr for approval
Step 3: Approved and recorded in the app's report.
EasyWork allows employees to submit an approval form with just a few taps on the smart device. All submission data is well recorded for HR or Department Manager's reference and approval.
Additionally, in the face of global challenges, EasyWork has come out with a smart 'Travel Declaration Form', which keeps track of employees travel destinations and effectively segregate employees who are back from infected countries.
How does the Staff Travel Declaration work?
Step 1: Fill in Travel Details
Step 2: Submit to manager/ hr for approval
Step 3: Approved and recorded in the app's report
How does Attendance work?
However, by using the EasyWork Clock in & out system with GPS now you can become more flexible to work anywhere and anytime. Attendance Clock in Clock out which you can check in & check out your attendance by accessing Location. Especially during the time of Work From Home.
It replaces the traditional access hardware system and it is cost-saving too. You don't need go to office and record your attendance. This is useful for those who are constantly working out-of-office , by using EasyWork Attendance system, now you can Clock in & Clock out at home with a proven location record.
Apart from the aforementioned, EasyWork offers over 15 workspace features in one app to facilitate WorkSpace, HR and Employees coordination. EasyWork aims to make working from home as productive as physically working in the office.
Now! Is the time to make your office paperless & less actual items contact in the urgent period! Keep employees healthy as the main concern and let's fight for the human's future as priority.