With the decline of confirmed cases in some locations, companies are steadily re-opening their offices and employees are gradually returning to work. However, the COVID-19 pandemic threat is still very much alive, and companies should not neglect taking precautionary measures to ensure the health of their employees are not jeopardize in the process of trying to re-establish the business. Here are some key areas of focus that companies should address before returning to the office post quarantine.
1. Provide Work Options for Employees
When returning to the office post quarantine, companies should consider if all employees are needed to return to the office for operations to resume normally. Some considerations should include the type of work each department or employee performs and the type of equipment needed for them to continue working and to be productive. If work can be performed remotely and has been in operation previously companies can consider allowing those employees to continue working from home and only require essential workers to return to the office.
Another option would be to segment the total office workforce into groups and have a work rotation to help with social distancing and reduce the number of people in the office. This rotation can be implemented on a weekly or daily basis. Companies can set up independent work shifts for different groups of employees to reduce physical contact and overcrowding in the office.
Employees could also have reservations on returning to the office as it might be deemed as an unnecessary risk to their health and might opt to work from home instead. Through the Approval Feature of the EasyWork app, companies can provide the option of Voluntary Work from Home and restructure the seating arrangement of the remaining employees that will be reporting into the office for work. Employers can use this method to promote social distancing within the office and reduce the risk of infection should any one employee contract the COVID-19 virus.
2. Adopt New Protocols to Secure Employee Health
After consideration and deciding that employees still need to return to the office for operations to resume, companies should then plan out and adopt new protocols to mitigate health risks and concerns. These protocols should include a prevention, isolation, evacuation and disinfection plan. Some of these can be assisted via the EasyWork App which will be addressed below.
Once a plan has been designed, it should be communicated to all employees for them to take note of the new procedures that will be in place. Company admins can use the Announcement Feature to alert all employees that there will be new protocols in place while employees gradually return to the office. A comprehensive guideline can then be shared via the Documents Feature for reference when they need clarification. Lastly, companies can take advantage of the Feedback Feature to get employee opinions about the new protocols which can be used to refine the guidelines of the new protocols.
3. Temperature Tracking
One of the primary symptoms of COVID-19 includes fever, and as a result one of the most commonly used method for testing is through temperature checks. However, in most cases, there is no continual tracking or records which could help pinpoint the period in which an infected individual started having a spike in temperature. Tracking temperatures of employees can help companies take pre-emptive action to restrict contacts with infected employees and reduce the risk of infection for other colleagues.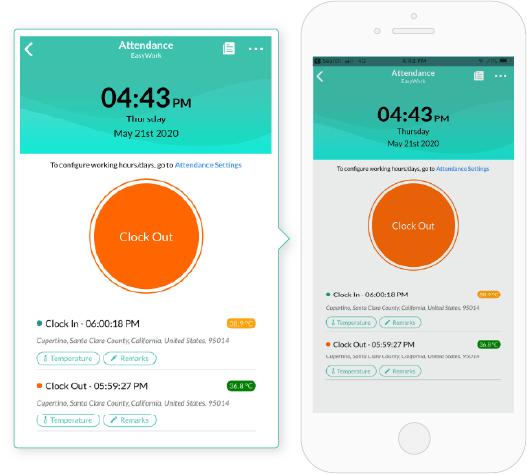 The Attendance Feature now allows users to input their temperature at the time of Clocking-In and Clocking-Out allowing company admins to have a record of their employees' temperature and help foresee any potential emerging symptoms of COVID-19. Admins will have to enforce temperature recording to make this method of tracking effective and accurate. Employees should understand that the methods put in place during this time in the pandemic serve only to help reduce the spread of the virus.
4. Reduce Physical Contact when Possible
Complete restraint of physical contact can be difficult especially when in an enclosed space like an office; however, where it can be avoided, it should be. This is where substitution of certain activities through technology can really make a difference. Documentation is a common example of an activity that most companies conduct physically. Whether through printing, sign offs or filing. Using technology, companies can evolve this physical activity into something that can be performed virtually.
EasyWork users can use the Approval Feature to handle documentation for item requests, procurement, contracts, projects, business trips and other general documents that require approval. Details can be shared directly from the app and notify the involved parties through email and push notification. Similarly, requests can be tracked conveniently on the same platform and approved requests will notify involved parties through identical modes of communications. Likewise, the Claims Feature can be used to submit applications for financial claims and overtime work and operates exactly like the application for approvals.
Regardless of your plans for returning to the office post quarantine, please do plan appropriately to ensure your workforce stays healthy so that your company can strive to resume operations as smoothly as possible and hopefully these tips have been useful in assisting your transition back to the office. Stay safe and stay productive.